Greg Hoyt Construction
Established in 1990, we have been serving satisfied customers for over 20 years. (News stories) Performing both residential and light commercial projects, in new construction as well as remodels, we specialize in Design/Build and custom remodeling projects. We have several crews of excellent craftsmen able to serve the needs of customers in both Mendocino and Lake counties of beautiful northern California. But building and remodeling is so much more than just what trades you perform that we would like to tell you more about:
Who We Are
In the world of contracting, there are all kinds of choices. The biggest decision the customer has in fact, is choosing the right contractor. You need to know that the contractor you select is one who will be able to not only build your project, but make the process as smooth as possible along the way. Because of this, it is important to us that you know more about our philosophy - how we do business.
Workability
We think that one of the most important factors in selecting a contractor is to find one that you can work with. That is why we set communication as a driving force behind all of our customer service. We make sure that we not only understand your dreams and desires, but that we keep you informed throughout the construction process in order to achieve a successful and satisfying result.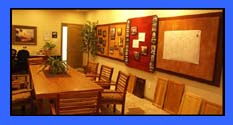 No plans yet? Need ideas? We offer design and plan drawing services for most projects. Pulling from our vast field experience, we can work with you to create just the right solutions for your home and budget. From preliminary sketches, to working plans and permits, we can take you there. Learn more about this and our 'Project Planning Center' on our Design-Build page.
Quality
Hand in hand with workability is quality. Our crews are excellent craftsmen, and thrive on getting the job "done right". For this reason, you may not find us to be the least expensive contractor in town. In fact, we often shy away from " competitive bidding" which tends to encourage some contractors to shoot out a lowball price. This often leads to cutting corners or poor warranty service, with you the customer, as the loser in the end. We don't think that's very fair - so when you get a bid from us, you can depend on capable, cheerful service all the way through - even through the warranty! Not only that, but once we start your project, we stay on it - no hopping from job to job.
Cleanliness

One of the hardest parts about a construction project is dealing with the unavoidable mess. We understand this and so require our crews to leave the project "broom clean" at the end of every day. We try to keep your project as "hassle free" as possible. There's no reason why you shouldn't enjoy the exciting process of seeing your dream come to life.
Dependability

Last, but definitely not the least, is our commitment to being a company of our word. We endeavor to help guide you through the construction process smoothly (Understanding Construction), have understandable contracts, skilled and trustworthy craftsmen, as well as a 12 month warranty for every project. We can even provide you with references from other satisfied customers. Projects always turn out better when you have confidence in your choice of contractor so we welcome any further questions you may have and thank you for this opportunity to introduce ourselves.